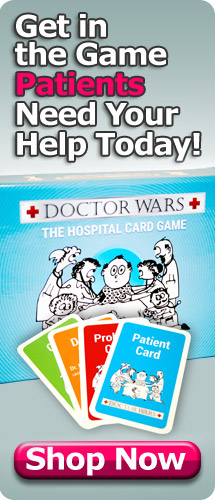 Ever wonder what doctors really do? Doctor Wars® - The Hospital Game is the place where strategy and chance are the prescription for fun.
The object of the game is to lead your team of doctors and nurses to successfully "treat" patients.
It's chess meets Greys Anatomy. Out-maneuver your opponents to control the hospital game board and win!
Watch out for wacky situations:

Save Ned from a smelly "code brown"
Send the intern on a wild coffee run
Race to find the cure for George's rare tropical disease
Featuring dozens of hilarious original cartoon illustrations, Doctor Wars® is a fun strategy game that the entire family can play.
Do you have what it takes? Help the sickest patients get out of the hospital and buy Doctor Wars® today!

Here's what people are saying about Doctor Wars®:
"Every med and nursing school graduate should have a stethoscope, their favorite texts and journals, and a copy of Doctor Wars® by the time they graduate."
– Retired Professor
"My son loves this game. He plays it for hours."
– Emergency Room physician
"This is awesome. I would buy this game."
– College Student after trying Doctor Wars

*Games are only shipped to addresses in the U.S.